Why worry about freight forwarding in Uganda?
Looking for the best clearing and forwarding companies in Uganda, look no further. By the time you read to the bottom of the page, you will have had a clear picture of what clearing and forwarding in Uganda is like.
On a daily basis, billions of goods are transported into and outside Uganda. Where there is a human being, there is logistics. We do not move with our companies but we move with goods produced by the companies. All this is made possible by the outstanding power of logistics. In developing countries like Uganda, freight forwarding and cargo transportation is not yet a well-developed business sector.
However, with the advancement in technology, increase in population and the world becoming a global village, the logistics business is no longer a question of if but when. With the emergency of logistics companies such as Love Uganda Logistics, there is a need for everyone to understand what clearing and forwarding is like in Uganda. This is why we have taken the time to elaborate more about clearing and forwarding in Uganda. It is high time you learned about what being a clearing and forwarding agent means. You will know the reason why business exporters use clearing and forwarding agents. Additionally, we'll let you know more about the functions of clearing and forwarding agents. And this is to mention but just a few. Let's take you there.
What is clearing and forwarding in Uganda like?
Clearing and forwarding simply means the process of loading goods or cargo and transporting the goods or cargo from one location to another. It involves the loading and offloading of goods. The work is done by clearing and forwarding agents such as Love Uganda Logistics.
Who is a clearing and forwarding agent?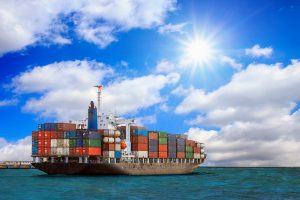 A clearing and forwarding agent is an expert (usually a company) that deals with clearing goods from the time they are picked up from the sender, goes through the legalities related to their transportation, coordinates with the carrier, does the shipping, and then delivers the goods to their destination.
Not everyone can go through the hustle and bustle of shipping goods from one destination to another. The activity is hectic in a way that it contains a lot of documentation, carrying the goods – remember some of the goods are perishables while others are dangerous ones. This is where the clearing and forwarding agent's expertise comes into play.
What is the function of a clearing and forwarding agent? What are the duties of a clearing agent?
Preparing needed documents.
Ensure quick clearance and safe delivery of goods.
Experienced customs team.
Air and Sea Clearance.
Ground handling at the airports/seaports / borders.
Special customs procedures such as temporary entry and re-exporting.
Arranging necessary documentation relevant to customs facilities.
Bonded storage
Container loading/off-loading
Cargo handling
Packaging / Wrapping
Non-bonded storage
Cold storage
Commercial documentation services and legal consultancy
Following releasing procedures up to delivery.
Are clearing and forwarding agents private entities?
Yes, clearing and forwarding agents are usually private entities and registered companies. However, governments can also have clearing and forwarding agents across the world. They can even be joint ventures or groups of companies.
Can I register a clearing and forwarding company in Uganda?
How do I register as a clearing agent?
Yes, like any other company, you can have a clearing and forwarding company registered with the Uganda Registration Service Bureau (URSB). A good example is Love Uganda Logistics Limited. The company can be part of registered associations in Uganda. All you need is to meet the company registration requirements as guided by the Uganda Registration Services Bureau (URSB).
For more information about company registration in Uganda, Click here. 
What is the process of clearing and forwarding?
Stage one: Export Haulage
This is the beginning stage in the freight forwarding process. It involves the movement of goods from a shipper's location to the freight forwarders' warehouse. Depending on the distance, the nature of the goods, and the geographical location, goods can be transported using a truck or train.  This stage does not have a specific length of time it takes. It can range from a few hours to a few weeks depending on the nature of goods and their location.   At this stage, the major parties involved are the forwarder and the owner of the goods (Client or business owners).
Stage two: Items Checkpoint
This stage follows the export haulage stage and it involves the freight forwarder checking thoroughly to confirm whether all goods were transported without incident. It also depends on the nature of the goods. Forwarders confirm if goods are in the right shape, color, or size. Counting also takes place. The major party involved here is the freight forwarder.
Stage three: Export Customs Clearance
After the foods have been counted and confirmed as having been transported in stage two, the next thing to do is clear with the relevant bodies at the Export Customs Clearance department in the country of their origin. This happens before goods are shipped off. Customs brokers are the ones who usually do this activity. The process involves a lot of documentation specifying the nature of the cargo and its destination. It is a very sensitive process. It is at this stage that an agreement between the shipper and consignee is reached. If a freight forwarding company does not offer this service, it is required to find a third-party Customer broker service. From this stage, goods are now good to go whether by land, air, or water.
Stage Four: Import Customs Clearance
This is more like stage three but the difference is that goods are now imported from another country. The stage involves relevant documentation and confirmation that goods have arrived in a new country. Goods can be cleared even before their arrival depending on the speed of the forwarder. This is where dealing with professional forwarders such as Love Uganda Logistics makes a difference. They help your goods through these stages in the shortest time possible since they have agents all over their areas of operation.
Stage Five: Destination Arrival and Handling
Upon arrival of the goods, they undergo quite a number of other sub-stages or processes. At this point, freight forwarders will receive all documents for the cargo, including outstanding documentation, carrier bills, and more. The major party involved here is the Freight forwarder.
Stage Six: Import Haulage
This is the last and final stage during the cargo or freight forwarding process. The stage is almost similar to stage one but the difference is that in the first stage the parties involved were the sender and the forwarder whereas here, it is the receiver and the forwarder who are involved. The stage involves the forwarder transferring goods from the warehouse to the receiver's destination. The forwarder may choose to deliver them to the receiver's doorstep or the receiver can pick them up from the warehouse. The goods are now no longer in the hands of the forwarder.
How can I become a clearing and forwarding agent in Africa?
Becoming a clearing and forwarding agent in Africa requires commitment, discipline, and investment in terms of finance. Africa is an area that is growing economically. This implies that the moment you join the business when you are not fully prepared, it might be a nightmare for you. It is important that you do enough research and have a talk with experts in the logistics business for better and more reliable advice.
What kind of job is clearing and forwarding?
A clearing and forwarding job is a rewarding job that gives you an opportunity to connect with businessmen and businesswomen from different parts of the world. Much us the job looks like something too sensitive, but it is one job that has a lot of chances for networking.
How much does a clearing and forwarding agent earn?
The question of earnings depends on the size of the company and how much operations it does in a given period of time. Like any other business clearing and forwarding agents depend on the amount of successful deals for them to be able to earn.
Who can be a clearing agent?
Becoming a clearing and forwarding agent is not rocket science, it is rather a business like any other. As long as you have the requirements such as capital, documentation, etc. you can be a clearing agent like Love Uganda Logistics Limited.
Is clearing and forwarding a good career?
Yes, Choosing clearing and forwarding as a career is a good decision since the field is an engaging one. It is a challenging career that presents better opportunities for growth. The career involves international business, diversity, and interaction with people from all corners of the world. It is generally a platform for networking worth undertaking.
What is the difference between a clearing agent  and a forwarding agent?
The forwarding agent has an obligation to see that the cargo/goods are forwarded according to the instructions of the exporter. Whereas, a clearing agent arranges to pass the concerned documents at customs.
Why do exporters need the services of clearing and forwarding agents?
While cargo transportation can be done individually, doing it when you have got large quantities of exports might be challenging. This is the reason why exporters opt for clearing and forwarding agents. The agents are given the responsibility of going through the hustle of clearance which includes documentation, tax payments, loading and offloading, and shipping, to mention but a few.
The beauty of using clearing and forwarding agents for exporting goods is that they take the burden off your shoulders.  
How to choose a clearing and forwarding agent in Uganda?
Easy steps to choose a logistics company.
Even when you decide to transport your cargo through freight and forwarding agents, getting the right agent might be challenging. But worry not, below are some of the things that you should look out for before deciding which logistics company you are to use.
Registration status
It is important that you confirm whether the clearing and forwarding company is fully registered with the government and other international bodies. You do not want your cargo to fall into the wrong hands. Check whether the agent has operational licenses, permits, and certificates that are not out of date
An active website
In the present world, a website is the starting point for one to prove the authenticity of the business. It is on the website that you will get detailed information regarding the clearing and forwarding agent. On the website you can get the right contact details such as email address, and phone number, to point out but a few.
Active social media platforms
With the world becoming a global village, social media platforms have taken the limelight and emerged as one of the major marketing platforms across the world. An authentic clearing and forwarding agent should have an active social media presence. The most common platforms are Facebook, Instagram, Twitter, LinkedIn, Pinterest, and WhatsApp, to point out but a few.
Check for the services offered
Not every clearing and forwarding agent does it all. It is better you transport your cargo knowing that it will be delivered to its destination when you want it. It is therefore important that you be sure whether the agent does all the activities. Remember some agents act as brokers.
Check for references and previous reviews
No one does not want to work with a reputable company. You should look out for what the previous customers have got to say about the forwarding agent you intend to use. The reviews do not have to be a lot but a company with 3 stars is good to go. Ensure to check the age of the company – the longer the time the company has been in existence, the more the number of reviews should be available.
Check for the company's broker bond
Freight and forwarding companies are required to have broker bonds. It is important that you know about it before doing any business with such a company. You do not want to get nightmares while transporting goods overseas.
Check for insurance
A reliable freight forwarding company ought to have an insurance policy in its dealings. When you get on the road, the probability of getting an accident is always half. This implies that your cargo has to be insured otherwise you will incur a loss.
Conclusion
There is no business that wishes to do business and incur losses in the logistics.  All this comes as a result of making poor choices when dealing with how to transfer your cargo from one location to another.  Love Uganda Logistics is here to solve all your clearing and forwarding problems in Uganda and Africa as a whole. Whether it is overland, overseas, or air freight, we are here for you. We can't wait to do business with you.